Maricopa Ambulance Training Coordinator Ryan Spilsbury receives AEMS 2019 Aces of Hearts Award
June 14, 2019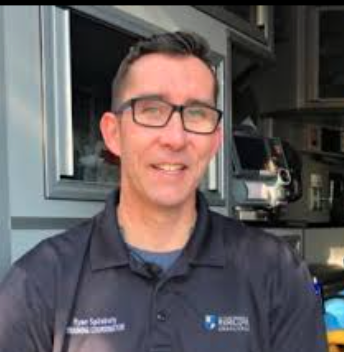 Maricopa Ambulance is proud to announce that Ryan Spilsbury, a career paramedic and the company's EMS training coordinator, was honored today as a 2019 Aces of Hearts award recipient by Arizona Emergency Medical Systems, Inc. (AEMS). The award is presented each year to individuals who have provided outstanding service in EMS or trauma care for the Central Arizona Region.
"Ryan is an outstanding educator and mentor to our team of field professionals here at Maricopa Ambulance," said West Region President Alan Smith. "He works every day to ensure our clinical education program aligns to the highest industry standards, and his passion for teaching is evident in all he does. We're very proud of Ryan and congratulate him on this well-deserved recognition."
Spilsbury was nominated for the 2019 Aces of Hearts award by Adam Stockton, EMS director for Glendale and Goodyear 911 operations. The nomination calls out Spilsbury's compassion and dedication to EMS. "Ryan is one of those special people who would do anything for another person. His kindness, willingness to help and his love for teaching make him a person who is looked to for guidance. He teaches in fun and easy way that makes it click for his students, and he works continually to make our medical training the best it can be."
This year, Spilsbury took the lead and developed an Arizona Department of Health Services (AZDHS) certified training center at Maricopa Ambulance, working side-by-side with the company's medical director to ensure the highest standards of educational excellence. The training center was certified by AZDHS in May.
Spilsbury joined Maricopa Ambulance in 2017 as a paramedic and was promoted shortly thereafter to his current role as EMS training coordinator. His responsibilities include planning and oversight of all Maricopa Ambulance clinical training, continuing education and public education programs, as well as training and instruction of new field employees. He is also a certified instructor for American Heart Association CPR, pediatric advanced life support and advanced cardiac life support classes.
Maricopa Ambulance is recognized as a Premier EMS Agency by the Arizona Department of Health Services and is a member of the Arizona Hospital and Healthcare Association, the Arizona Health Care Association and the Arizona Ambulance Association. For more information, visit www.maricopaambulance.com.
Maricopa Ambulance is a member of the Priority Ambulance national family of companies. For more information, visit www.priorityambulance.com.