Maricopa Ambulance earns Premier EMS Agency recognition under new state standards
July 1, 2019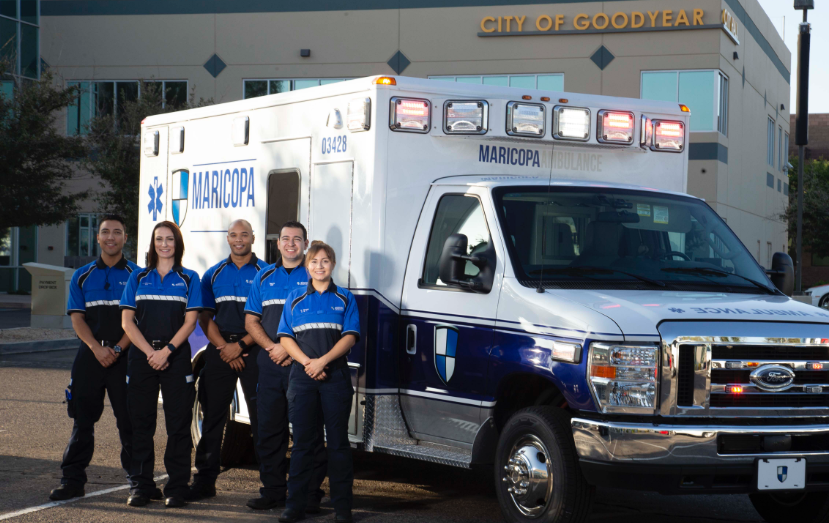 Maricopa Ambulance has been recognized by the Arizona Department of Health Services (ADHS) and the Bureau of EMS and Trauma System as a Premier EMS Agency in accordance with the state's newest recognition standards. Maricopa Ambulance was first recognized as a Premier EMS Agency in 2016.
"Premier EMS Agency recognition is truly an honor for the Maricopa Ambulance team, and we are very proud to uphold these rigorous standards for the benefit of EMS systems in Arizona," said Alan Smith, regional president. "Our dedication to data-driven quality improvement programs and the highest patient care standards demonstrates our commitment to high quality, cost-effective and responsive patient care and customer service."
To qualify for Premier EMS Agency designation, EMS agencies must establish evidence-based processes for performance measurement, setting performance improvement targets, staff integration, customer service improvement, inter-agency/provider collaboration and operational efficiency.
In accordance with the program, Maricopa Ambulance provides electronic patient care reporting (ePCR) and commits to quality assurance reviews of all patient calls involving suspected opioid overdoses, out-of-hospital cardiac arrests, ST-segment elevation myocardial infarction (STEMI heart attacks), stroke, major trauma, and pediatric resuscitation. The company also utilizes its ePCR data to develop clinical training, educational programs and policies that will enhance patient care, among other requirements.
The Premier EMS Agency Program (PEAP) was created by ADHS to ensure patients receive standardized, quality prehospital care and transport to healthcare institutions equipped and staffed to render appropriate levels of care. EMS agencies and healthcare institutions voluntarily participate in the program to help develop standardized data collection and submission processes. The data is used by ADHS to identify trends and develop methods to further improve services across the state.
About Maricopa Ambulance
Maricopa Ambulance provides emergency and non-emergency ambulance services within Maricopa County, including 9-1-1 services to the cities of Scottsdale, Glendale, Goodyear and Surprise, as well as comprehensive non-emergency services to hospital and healthcare facility customers throughout the Valley. The company is recognized as a Premier EMS Agency by the Arizona Department of Health Services and is a member of the Arizona Hospital and Healthcare Association, the Arizona Health Care Association and the Arizona Ambulance Association. For more information, visit www.maricopaambulance.com.
Maricopa Ambulance is a member of the Priority Ambulance national family of companies. For more information, visit www.priorityambulance.com.